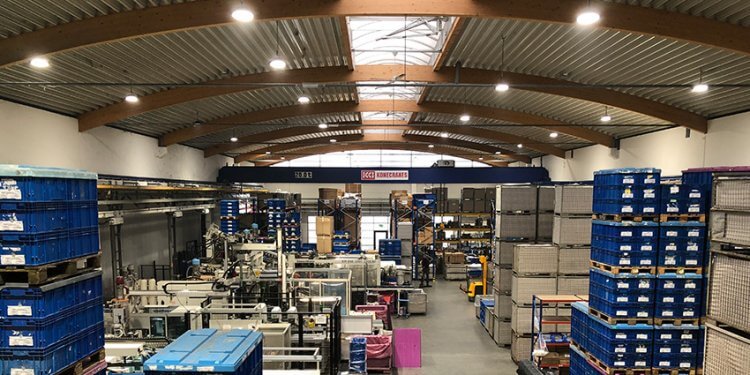 For luminous efficiency mimicking daylight, pleasant working conditions and a good environmental footprint
64 new daylight LED projectors have been installed in the production halls of Mues Products & Moulds GmbH. The greatest advantage is the luminous efficiency that mimics daylight and provides employees with a pleasant working environment. Another benefit is the environmental footprint, saving approx. € 10,300 in electricity costs a year. Overall consumption has been reduced from 14,000 to less than 7,000 kilowatt hours. Due to 3-shift, 24-hour production in both halls, this investment will pay for itself within a year.
GENERAL INFORMATION ABOUT MUES PRODUCTS & MOULDS GMBH
The company has grown steadily since it was set up in 1967. At present, Mues Products & Moulds GmbH employs about 45 qualified skilled staff. 4 apprenticeships are awarded each year, 2 for precision machinists in mould construction and 2 for process mechanics in plastic and rubber technology.
MODERN WORKPLACES WITH A PROMISING FUTURE
Thanks to the company's excellent order book position, it offers exciting prospects for further development, both in terms of technological innovations and also with regard to jobs and the customer portfolio.